Species At Risk Initiative
Connecting with the land has always been a vital part of cultural continuity for Indigenous cultures, including Siksikaitsitapi (Blackfoot People). Indigenous youth and elders, in particular, are important to focus land-based knowledge sharing on as the youth are the ones that will carry on the culture and traditions, and the elders are the ones who will share that knowledge.
In March 2020, Piikani Lands Department, a Piikani Elder, and a representative of Piikani High School met with Waterton Lakes National Park (WLNP) staff to discuss their desire for WLNP to host a Piikani youth field trip that summer. Due to Covid-19, plans to put that intention into action were delayed. In early 2021 that catalyzed an even more robust collaboration, with Piikani youth Carleigh Grier-Stewart being hired by WLNP in the position of Knowledge Weaver, the first of its kind within Parks Canada.
Piikani Youth Field Days.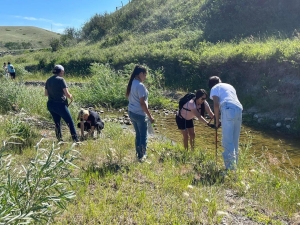 Throughout the summer months, Piikani Lands Department and Waterton Lakes National Park co-hosted four dedicated field days where Piikani youth were immersed in land-based learning experiences. On three of those days, the youth were able to come out to Paahtomahksikimi to join various western science- focused field teams and learn about the conservation and restoration work being led within the park by Parks Canada.
Objectives of the field days were to:
Provide immersive, land-based experiences to Piikani Nation youth, encouraging them to deepen their connections with the land and its power as a source of healing
Build Piikani Nation youth awareness of potential land-based careers in land conservation and restoration and inspire them to pursue education
 Engage Piikani Nation youth in Waterton Lakes National Park's diverse conservation and restoration efforts
 Spark conversations on diverse ways of knowing and experiencing the land
Piikani Plant Guide
In addition to the Piikani Field Days, Building Species at Risk Capacity and Facilitating Youth Engagement within the Piikani Nation is aimed at facilitating elder and knowledge holder interviews that focus on species at risk engagement, species at risk inventory and mapping on Piikani Nation, and building a culturally-significant plant guide that is based on Piikani Nation places. We have conducted interviews with elders and knowledge holders as they shared stories of a time when they remember interacting with various plants that are now classified at a specie at risk. With the help of Carleigh Grier-Stewart, we will be producing a plant guide in the form of a brochure that identifies various plants that may be at risk. Piikani Nation Lands Department will soon to be developing signs that placed along walking trails at the school to help students learn more about Piikani related species at risk.